"From the Himalayas to the Markets: Exploring the Best of Kathmandu"
Kathmandu is the vibrant capital of Nepal, located in the heart of the Himalayas. It is a city that is rich in history and culture, and it has become one of the most popular tourist destinations in South Asia. With its fascinating temples, colorful markets, and lively street life, Kathmandu is a must-visit destination for anyone who loves adventure, culture, and spirituality.
The city of Kathmandu is a mixture of old and new, with ancient temples and historic buildings juxtaposed against modern skyscrapers and shopping centers. The city is home to some of the most important temples and religious sites in Nepal, such as the famous Swayambhunath Stupa, also known as the Monkey Temple. This iconic structure sits atop a hill overlooking the city, and it is a popular spot for visitors to take in the breathtaking views of the city and the surrounding mountains.
Another must-visit temple in Kathmandu is the Pashupatinath Temple, which is one of the most sacred Hindu shrines in the world. This temple is located on the banks of the Bagmati River, and it is dedicated to Lord Shiva. The temple complex is vast and includes many smaller temples and shrines, as well as a cremation area where Hindus come to perform last rites for their loved ones.
Kathmandu is also home to many other historic sites and landmarks, such as the Durbar Squares of Kathmandu, Patan, and Bhaktapur. These squares were once the centers of political and social life in the Kathmandu Valley, and they are now UNESCO World Heritage Sites. They feature impressive palaces, temples, and courtyards, all of which offer a glimpse into Nepal's rich cultural and architectural heritage.
One of the most charming things about Kathmandu is its vibrant street life. The city is filled with colorful markets and bazaars, where visitors can find everything from traditional handicrafts and clothing to fresh produce and spices. Some of the most popular markets in the city include the Asan Bazaar, the Thamel Market, and the Indra Chowk Market.
Thamel is a bustling neighborhood in central Kathmandu that is known for its lively atmosphere and backpacker-friendly accommodations. It is a popular spot for travelers to stay, as it offers a wide range of budget-friendly guesthouses, hostels, and hotels. Thamel is also home to many shops, restaurants, and bars, making it a great place to spend a day or evening exploring.
For those who are looking to escape the hustle and bustle of the city, there are many beautiful natural areas to explore around Kathmandu. One of the most popular is the Shivapuri Nagarjun National Park, which is located just north of the city. This park is home to many hiking trails, waterfalls, and wildlife, and it offers stunning views of the city and the surrounding mountains.
Another popular natural attraction near Kathmandu is the Chitwan National Park, which is located about 100 miles southwest of the city. This park is home to a wide range of wildlife, including tigers, rhinos, and elephants, and visitors can take jeep safaris, elephant rides, and canoe trips to explore the park.
Overall, Kathmandu is a fascinating and beautiful destination that offers something for everyone. Whether you are interested in exploring Nepal's rich cultural heritage, immersing yourself in the city's vibrant street life, or getting back to nature in one of the many beautiful natural areas around the city, there is no shortage of things to see and do in Kathmandu.
Kathmandu is a city that is known for its spiritual and religious significance, and visitors can immerse themselves in the city's rich cultural traditions by participating in the many festivals and celebrations that take place throughout the year. One of the most important festivals in Kathmandu is the Dashain Festival, which is a 15-day-long celebration that marks the victory of good over evil. During this festival, locals come together to worship the goddess Durga and celebrate with feasts, music, and dance.
Another important festival in Kathmandu is the Tihar Festival, also known as the Festival of Lights. This five-day festival is celebrated in honor of the goddess of wealth and prosperity, and it is marked by the lighting of diyas (small oil lamps) throughout the city. Visitors can take part in the festivities by joining in on traditional dances and music, and by sampling delicious Nepalese sweets and snacks.
In addition to its cultural and spiritual attractions, Kathmandu is also a great destination for adventure seekers. The city is located in the heart of the Himalayas, and there are many opportunities for trekking, hiking, and mountaineering in the surrounding areas. One of the most popular trekking routes near Kathmandu is the Everest Base Camp trek, which takes visitors through the stunning Khumbu Valley and offers breathtaking views of the world's highest peak.
For those who are interested in exploring the city on foot, there are many walking tours and guided tours available that can take visitors to some of the city's most iconic landmarks and hidden gems. From the winding streets of the old town to the bustling markets of Thamel, there is no shortage of interesting sights to see and explore in Kathmandu.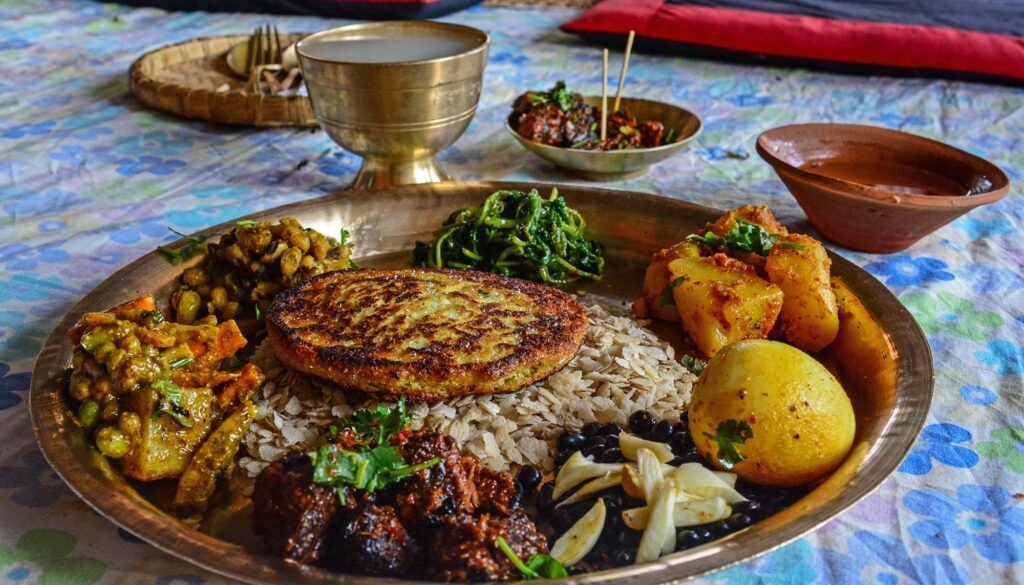 When it comes to food, Kathmandu offers a unique and diverse culinary scene that is sure to please any palate. Nepalese cuisine is known for its bold flavors and use of fresh, local ingredients, and visitors can sample everything from spicy curries and momos (dumplings) to sweet desserts and refreshing lassis (yogurt drinks). Some of the most popular restaurants in the city include Bhojan Griha, a traditional Nepalese restaurant that offers a cultural dining experience, and Newari Kitchen, which specializes in authentic Newari cuisine.
In terms of accommodations, Kathmandu offers a wide range of options to suit any budget and style. From luxury hotels and resorts to cozy guesthouses and hostels, visitors can find the perfect place to stay in the city. Some of the most popular accommodations in Kathmandu include the Hyatt Regency Kathmandu, the Yak & Yeti Hotel, and the Kathmandu Guest House.
In conclusion, Kathmandu is a unique and fascinating destination that offers a rich blend of history, culture, spirituality, and adventure. With its impressive temples, bustling markets, lively street life, and stunning natural beauty, there is no shortage of things to see and do in this vibrant city. Whether you are a history buff, a nature lover, an adventure seeker, or simply someone who loves to explore new cultures and traditions, Kathmandu is a must-visit destination that is sure to leave a lasting impression.