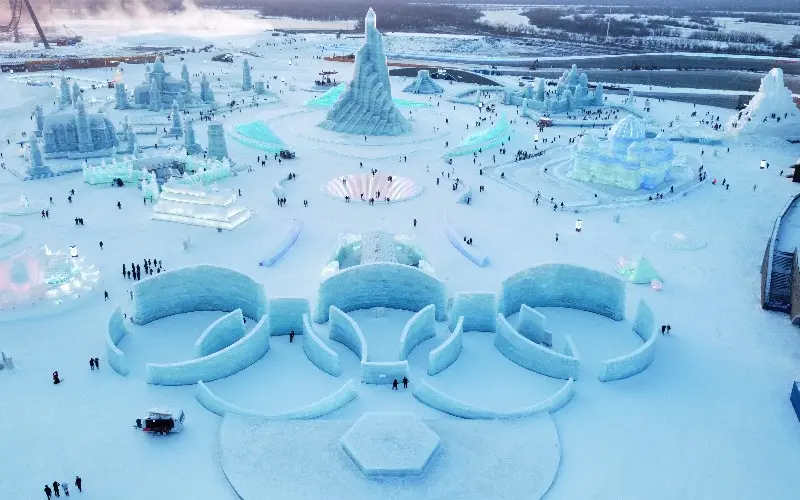 Harbin is a city located in northeastern China, known for its unique blend of Russian and Chinese cultures and its annual ice festival, which draws visitors from around the world. But beyond the winter festivities, there are many other places to visit in Harbin that showcase the city's rich history and culture.
St. Sophia Cathedral One of the most famous landmarks in Harbin, St. Sophia Cathedral was built in 1907 and is a beautiful example of Russian Orthodox architecture. The cathedral has been preserved and now serves as a museum, showcasing the history of Harbin's Russian influence.
Central Street Also known as Zhongyang Street, Central Street is a pedestrianized street lined with historic buildings, shops, and restaurants. It was once the main commercial street in Harbin and is now a popular tourist destination. Visitors can take a stroll down the street, enjoy some local street food, or shop for souvenirs.
Harbin Ice and Snow World As previously mentioned, Harbin Ice and Snow World are one of the biggest tourist attractions in the city. The festival features massive ice sculptures, ice slides, and other winter activities every year. Visitors can marvel at the intricate designs and sculptures while enjoying the winter wonderland atmosphere.
Harbin Polarland Harbin Polarland is a theme park and aquarium that showcases the region's Arctic wildlife. Visitors can see polar bears, arctic foxes, and other animals, as well as enjoy a variety of shows and attractions. It is a popular destination for families with children.
Sun Island Sun Island is a large park located on an island in the Songhua River. It is a popular destination for locals and visitors, especially during summer. The park features gardens, sculptures, and several museums, including Harbin Siberian Tiger Park.
Harbin International Ice and Snow Sculpture Festival While technically part of the Harbin Ice and Snow World, the International Ice and Snow Sculpture Festival is a separate event that takes place every year. It features elaborate ice and snow sculptures from artists around the world and is considered one of the largest ice and snow sculpture festivals in the world.
Harbin Flood Control Memorial Tower Built in 1958, the Harbin Flood Control Memorial Tower is a symbol of the city's resilience in the face of natural disasters. It commemorates the city's successful efforts to control the devastating floods of the Songhua River in the 1950s.
Heilongjiang Provincial Museum The Heilongjiang Provincial Museum is a must-visit destination for history buffs. It exhibits the region's history, culture, and natural resources. The museum's collection includes artifacts from ancient times to the present day, including traditional clothing, pottery, and art.
Harbin Grand Theatre Opened in 2015, the Harbin Grand Theatre is a modern, state-of-the-art performance venue that hosts a variety of cultural events, including music, dance, and theater. The building itself is a work of art, with a unique design that blends traditional Chinese and modern architectural styles.
Harbin Ropeway The Harbin Ropeway is a cable car that offers visitors a unique view of the city from above. It connects Sun Island and Harbin Ice and Snow World and provides stunning views of the Songhua River and the surrounding scenery.
In conclusion, Harbin is a city full of history, culture, and unique attractions that offer visitors a glimpse into China's past and present. From the famous ice and snow festivals to the historical landmarks and modern cultural venues, there is something for everyone in this fascinating city